Best Way To Accept Payments Online by Authorize.net and WPForms
Accept Payments Online by Authorize.net and WPForms
Are you still struggle to integrate the payment gateway feature with your WordPress Website? This is not a rocket science. Here I will discuss one of the Easy, Secured and Best Way To Accept Payments Online by Authorize.net and WPForms.
Though many people or bloggers are facing issue while adding the easy and secure payment gateway in their website. So to solve your issue we come up with a solution which is very each to implement with the help of plugin and it is safe as well.
This will be the perfect solution for all who wants to integrate the payment gateway option within their website.
Are you really exited to know, isn't it? Today I will provide you detailed solution and step by step guide to cater this issue. We will introduce the Authorize.net form solution [WP Forms] for online transaction and Payment.
If you are have question like what is Authorize.net? Let's dive it to understand this feature.
What is Authorize.net Payment Solution?
Authorize.net is a popular, safe and easy to use payment gateway feature or solution that allows you to accept online payment payments on your website/blog/e-commerce website.
This feature or solution allows all customers of your website to process payments from credit or debit cards.
With this addon feature you can easily use your WP Forms Authorize.net account to accept online payments from your customers.
In this you will need to create a form using WP Forms. After that you can easily integrate WPForms with Authorize.net
Why to use Authorize.Net Payment solution?
Here are the features and advantages of using this feature:-
It is quite easy to create a payment form in WordPress with help of this feature.
The set up steps are very easy and very less time consuming
Payments from all cards are accepted
It is very easy to accept payments anytime, anywhere
It provides advanced Authorize.net Fraud Detection which helps to keep your account safe.
It helps to set up Assistant with one notification per transaction in real time.
Best way to accept payment if you are running a WordPress website
Flexibility is the biggest advantage of using this feature
Quite easy to create a payment form in WordPress which helps to take orders online
It offers lower fees than other payment gateways such as Stripe/PayPal.
How to install Authorize.net with WPForms | Step by step detailed guide
Step 1 :- If you are running a wordpress website then just go to plugins and Install & activate WPForms plugin.
Step 2 :- Once you activate the plugin then you want to install and activate the Authorize.Net addon. Once you click in the WP Forms in the left side bar of WordPress dashboard, then find the Authorize.Net addon feature and click install and activate it.
Step 3 :- Once the Authorize.Net is installed and activated in your website, then quickly check that the payment settings you want in the WP Forms. For that just navigate to WP Forms in left side of your WordPress dashboard -> click on Settings and the Payments tab and select the currency as per your requirement from drop down list.
Step 4 :- After that login to your Authorize.net account with your credentials.
Step 5 :- Once you logged in, just check whether you are in Live mode.
Step 6 :- Now you need to find the API key. So firstly you need to select Settings under Account.
Step 7 :- Under General Security Settings, you need to click API Credentials and Keys.
Step 8:- After that just copy API key from the screen and switch back to your WPForms tab. Then just scroll down to see the Authorize. Net section, then go ahead and paste the API key into the API Login ID Tab.
Step 9:- After that just switch back to Authorize.Net account. I think, you still be on the API Credentials and Keys page. Click on Obtain, and then New Transaction Key. After that go ahead and click Submit.
Step 10 :- Then Authorize.Net will send a PIN to your respective email address. Then just check your email, then paste the PIN in and click Verify PIN.
Now you will get a working transaction key. Just copy the key and paste it into the Transaction Key field and click on save settings. So for now WPForms and Authorize.Net are connected.
Step 11 :- Now you need to create your Authorize.Net payment form. If you have a form that you are already using then just open up in the WPForms builder.
If you don't have a form yet, then you need to create a simple order form from drag and drop feature to just use a template. WP Forms having more than 100 inbuilt form templates.
Step 12 :- Then just click one of the template and WPForms will open the form builder. You can customize the form by drag and drop builder. You need to customize it as per your requirements.
Step 13 :- After customizing your WP form, you can simple turn on payments. You need to check on the left-hand side, and click on Payments and then click Authorize.Net
After doing all these steps you need to follow the below mention steps to complete the process:-
Just click on Enable Authorize.Net payments checkbox from Authorize.net
In the Payment Description field, you need to type the words that will appear on your customer's credit card statement who will going to purchase from your site. You can type your store name.
In the Authorize.Net Payment Receipt, put your Email to get an email receipt. If you do not select anything, then the customer won't get a receipt. So make sure to put the details.
In Customer Name dropdown, select name to have the customer's name which is associated with the payment.
Click save and now Authorize. Net WP form is ready to use.
Step 14 :- After the following steps, you can now publish your Form anywhere in WordPress website. You need to just click the embed button and take the short code and paste wherever you want that form.
Step 15 :- If you want to put your WP Form onto a page, WP Forms will automatically give the option to create the page.
WPForms will ask you if you want to select an existing page or create a new one. Let's click Create New Page.
Put some name for your page, then click the Let's Go button. WPForms will automatically create a page and embed your form into it.
Step 16 :- Now you have to click Publish or Update to make the WP Form live on your website.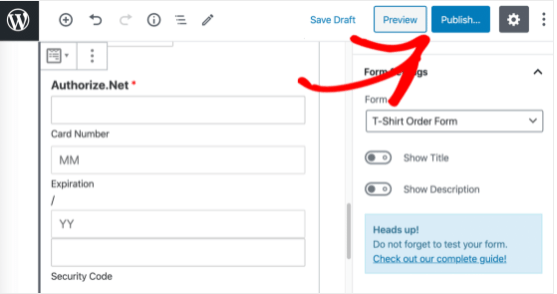 After you done with all the above mentioned steps. Now yo can accept Payments Online by Authorize.net and WPForms.
For any doubts or queries, you can contact Authorize.net support to resolve your question.
FAQ (Frequently Asked Questions)
Q 1:- What are the transaction fees for Authorize.Net [WP Forms]?
Ans:- The transaction rate is 2.90% (0.30 USD) which is lesser than other payment options like PayPal/Stripe etc.
Q 2:- What is Recurring Payment?
Ans:- With recurring payments, a transaction is established with the amount purchased on the website is automatically deducted from the customer's account at regular intervals.
Q 3:- Is it safe to use this feature of WP Forms?
Ans:- Yes, it is completely safe and it is enabled with advanced Authorize.net Fraud Detection
Q 4:- How does Authorize.Net prevent fraudulent transactions?
Ans:- It is enabled with an integrated advanced fraud detection suite with 13 configurable filters that helps to avoid fraud transactions.
Conclusion
Hope you get all required details in this blog" Best way to accept Payments Online by Authorize.net and WPForms".
I highly recommend you to Authorize.net [WP Forms] feature instead of creating a payment gateway or other options.
So what are you waiting for?
If you still not sign up, then just click the link below and experience the new and awesome feature that WP Forms provide.
Also Read